Bachelor Of Science ( B.Sc. )

NEP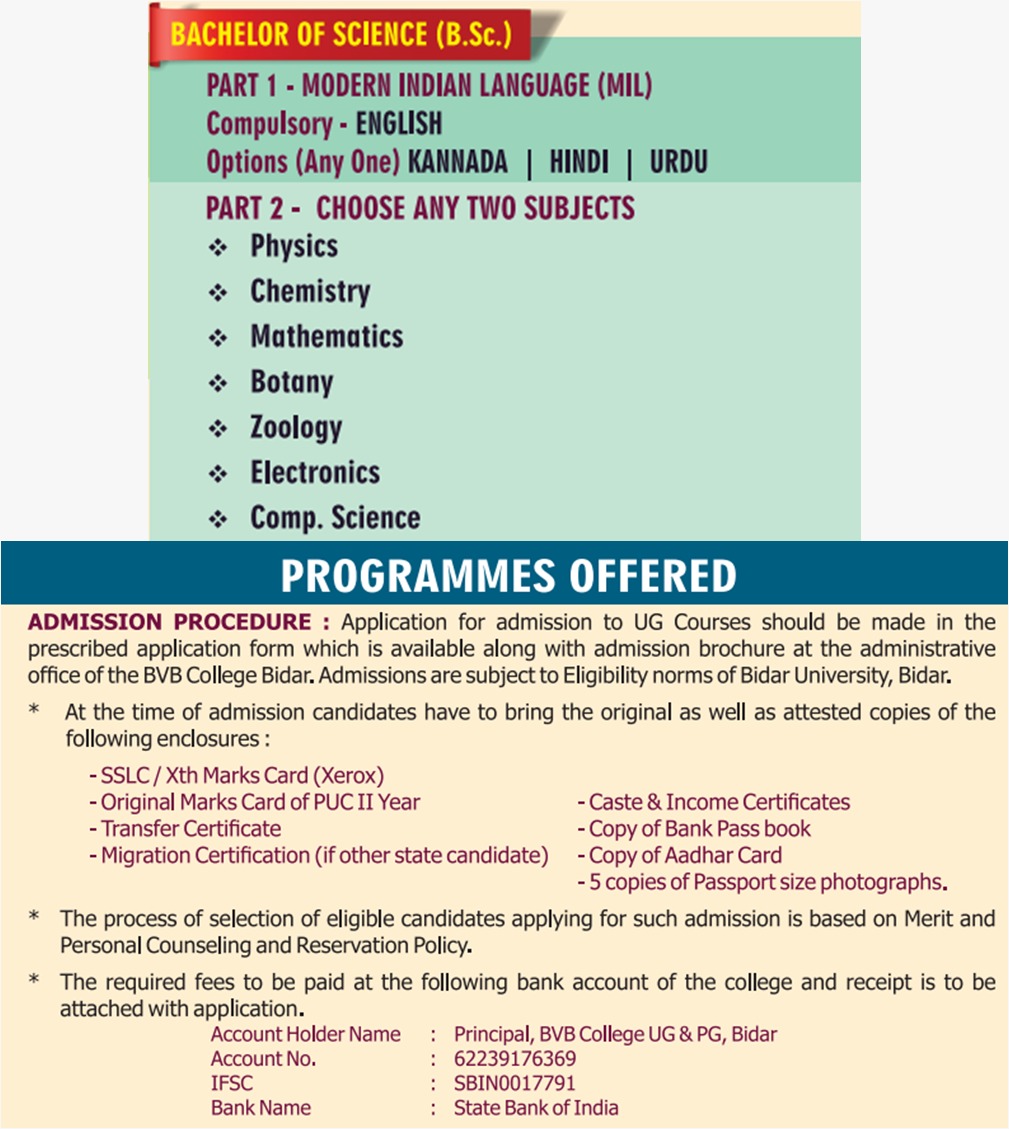 CBCS
Admission is open for both Male & Female students as it's a co-education college.
The college follows non-elitist polices of admission, in keeping with its ideals of education to all and social justice. B.V. Bhoomaraddi College does not share the general perception of B.A. B.Sc. Courses being irrelevant. We value the understanding of the society and cultural process that the social sciences provide when pursued with interest. Each of the combinations offered will give the student a true multidisciplinary perspective into contemporary affairs
As per University regulation Part-I consists of Languages and Part-II optional subjects.
PART-I: Candidates have to select any two Indian Languages they are:
Kannada
English
Hindi
Urdu
For all UG courses like B.A/B.Sc/B.Com/BCA.
PART-II
Chemistry – Botany – Zoology
Physics – Chemistry – Mathematics
Physics – Mathematics – Computer Science
Physics – Mathematics – Electronics
Electronics – Mathematics – Computer Science
Physics – Electronics – Computer Science
B. Sc. I Semester
A candidate who has passed the two year Pre-University examination of Karnataka State or any other examination considered as equivalent is eligible to get admission for first semester of B.Sc. Degree.
A Candidate who has passed two years job-oriented P.U. Diploma Examination conducted by Director Vocational Education, Govt. of Karnataka (Excluding the subject in the existing regulations) is also eligible.
Course Study
The Maximum period for the completion of course will be of three years from the date of admission.
The course consists of a combination of three subjects of equal importance and shall also consist of two languages and Compulsory subject such as, Indian Constitution, Environmental Studies and ECA.
The medium of instruction shall be in English with exception in case of language papers. The medium of examination shall be in English.
Documents Required For Admission
PUC II year Original Marks Card + Five Xerox copies
Transfer Certificate Original + Five Xerox copies
SC/ST Caste Certificate + Five Xerox copies
OBC Original Certificate + Five Xerox copies
Migration Certificate Original + Five Xerox copies (FOR other University/Board)
Aadhar Card + Five Xerox copies
Bank Account detail + Five Xerox copies
Recent passport size Photos (05)
A Bachelor of Science receives the designation BSc or BS for a major/pass degree and BSc (Hons) or BS (Hons) for an honours degree.
We're Waiting To Help You
Get in touch with us today and let's start transforming your question.